Seamless Aluminium Gutters
This type of guttering ensures there are no unsightly seams which are used to hold many pieces together. It is rolled out from one piece of material and made to fit your roof precisely; it is then joined together at the corners. This can make your roof look significantly more aesthetic and improves the overall appearance of the property.
Seamless Aluminium Guttering is available in a 125 x 100 mm Ogee profile, with a range of colours. It is produced in long lengths to suit the house or building to reduce joints and is extremely cost effective.
Benefits of Seamless Guttering
A major benefit of using seamless guttering is their incredible resistance to leakage. This reduces maintenance costs significantly and can also increase the life of the rainwater system as there are fewer areas of potential damage and wear.
Installation of Seamless Guttering is extremely quick as it is ready in one piece. Attaching it into place and forming joints around corners of the roof layout are the key responsibilities when fitting Seamless Guttering. The absence of joints in the running length of the gutter, its invisible joint system and its durability and strength in comparison to any plastic alternatives make this product a smart choice.
The product has a baked enamel finish and does not require repainting, driving maintenance costs down significantly in the long term. The product comes in a variety of colours (predominantly black, white & brown) giving you freedom and flexibility in your building design. We have installed these products on schools, supermarkets, private homes, offices, apartment blocks and large social housing refurbishment schemes.
We recommend that gutters are checked twice a year for debris. To uphold the appearance of the gutter we recommend a solution of warm water and mild detergent. All surfaces should be cleaned using a soft cloth or sponge, using nothing harsher than a natural bristle brush.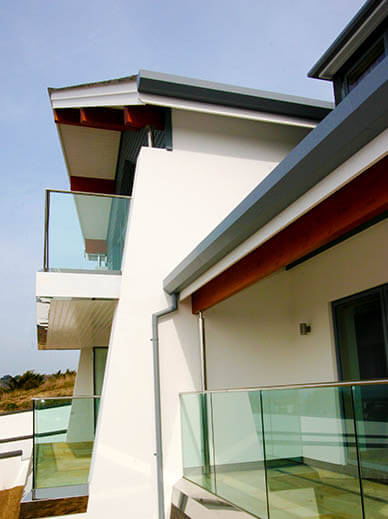 Request Quote
Our Team are waiting for your call
We are available to talk from 9 till 5:30 every weekday. You can also email our
Sales Team
or use our website for quotes.
Request Quote