Stafford Rainwater Systems Aluminium Wall Copings are made to measure and available in all sizes and configurations. They can be supplied in mill finish or polyester powder coated in a range of colours. Coping thickness, width, depth and appearance vary to suit each individual application. Stafford Rainwater Systems offer a range of coping profiles to suit all building types. We have installed Aluminium Coping throughout the country and it is fast becoming a trend throughout UK Construction.
There are three standard variations of coping available all with the same easy fit, secret fix bracket system that ensures no protrusions through the outer coping guaranteeing it is completely water tight for a full comprehensive surface protection. We have installed Aluminium Copings as part of multi million pound projects, but also to smaller domestic properties. The versatility and bespoke nature of an Aluminium Coping profile complements such a range of building types that they are fast becoming essential in the makeup of modern building architecture.
Coping Brackets and Fixings (The extras)
The Coping fits onto Heavy Duty Aluminium Coping Brackets. We can design special brackets to suit most non-standard fixing backgrounds. Aluminium Wall Coping Fittings that we supply include:-  Angles, Stop Ends, T Junctions, Raking Angles, Apex Angles, Upstand Stop Ends, Stepped Junctions between Coping Sizes, Coping Brackets – a complete Aluminium Coping System.
The dynamic of many buildings requires a Radius or Curved Coping style. Radius Copings, either True Curve or Faceted Coping are available. Stafford Rainwater Systems also install Aluminium Coping Horizontally, Vertically, and as a complex curve. Put us to the test!
As mentioned, installation of Aluminium Copings differs vastly per specification. Coping can be made in a robust fashion for industrial and commercial projects. It can also be designed more aesthetically for projects in which the coping is visible and appearance is vital. Individual designs and colour schemes of the capping can be adapted to complement or contrast with the building components.
Standard Copings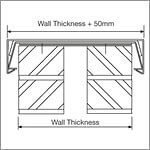 Due to the water resistant joint detail utilised for the Coping System the profile does not need to slope in section. The standard section is particularly popular for gable parapet walls.
Weather-Struck Coping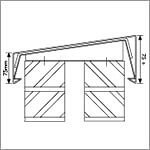 Sloped to replicate traditional stone and concrete capping systems.
Ridgeway Coping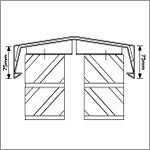 Sloped in two directions to replicate traditional stone and concrete capping systems.
Additional Information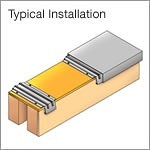 A full range of accessories are available to suit all of our coping systems.
Please contact our technical services department for copings in excess of 500mm wide or on exposed sites as these require special consideration.
Low Maintenance

Durable

Lightweight

Very Adaptable

Speedy Coping Installation
Low Maintenance

Durable

Lightweight

Very Adaptable

Speedy Coping Installation
Request Quote
Our Team are waiting for your call
We are available to talk from 9 till 5:30 every weekday. You can also email our
Sales Team
or use our website for quotes.
Request Quote