Blackburn Cathedral, officially known as the Cathedral Church of Blackburn Saint Mary the Virgin with St Paul, is an Anglican (Church of England) cathedral situated in the heart of Blackburn town centre, in Lancashire, England. The cathedral site has been home to a church for over a thousand years and the first stone church was built there in Norman times.
With the creation of the Diocese of Blackburn in 1926 (taken from the Diocese of Manchester) the impressive parish church of St Mary the Virgin was raised to cathedral status. The church, which was built in 1826 and designed by architect John Palmer, now forms the cathedral's nave.
Phil Stafford, MD of Stafford Rainwater Systems explained
'we are honoured to have been appointed as Sub-Contractors of such an illustrious building. We have designed bespoke lead hoppers to match the existing Gothic architecture that makes the Cathedral so unique. It is an exciting project and a real focal point of Blackburn Town Centre, we look forward to viewing the finished article and hope the people of Blackburn are pleased with the adaptations.'
In the early 1930s, fundraising began to enlarge the cathedral so that the building complemented its new-found importance. By 1938, enough money had been raised and work began on enlarging the new cathedral. Although work was interrupted by the war, it was resumed afterwards and continued through the 1950s and into the early 1960s.
The cathedral was finally completed in 1977 and what had been built over the past decades was finally consecrated as Blackburn Cathedral that year.
On 17 April 2012 the Cathedral hosted the Royal Maundy service. In keeping with tradition, The Queen handed out Maundy money to 88 men and 88 women. It was the Queen's first visit to the Cathedral.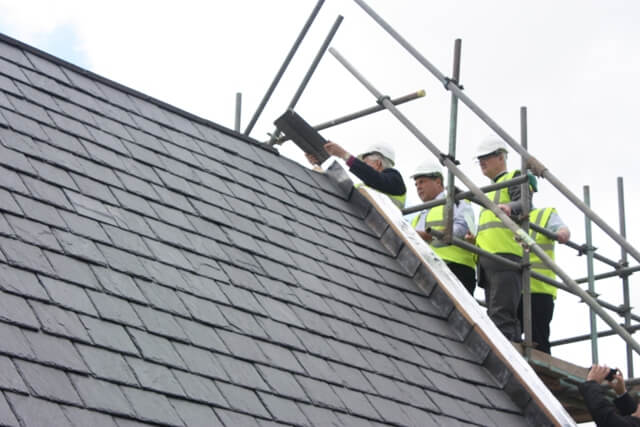 The Bishop of Blackburn, Rt Rev. Julian Henderson, prepares to lay the final tile during the topping out ceremony at Blackburn Cathedral's new Cathedral Court building